The Neiman Institute Grants Program will advance our mission by funding novel research that provides evidence to inform health policy and radiology practice that promotes the effective and efficient health care.
We seek proposals that meaningfully expand the evidence base that paves the way for new health policy and advances radiological practice that improves patient outcomes, reduces health disparities, informs the appropriate use of that care, and demonstrates value to support adequate reimbursement to ensure access for patients.
Neiman Institute grants will advance the broader ACR strategy to engage in imaging research that will advance the practice of radiology.  Accordingly, we will seek opportunities to invest back into the ACR membership to foster innovative and high-potential research; applications from researchers outside of radiology will also be accepted.
---
Program Objectives
To facilitate novel, empirical research that contributes directly to the NHPI mission.
Funded research proposals will:
Be a Current Policy Priority in Radiology
Be Hypothesis Driven (versus hypothesis generating)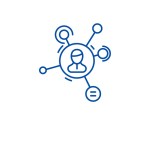 Include a Research Plan with actionable information
Have the Potential to Directly Inform Health Policy and Practice
Priority is placed on proposals from ACR members, incorporating expertise, research methods, populations, or data sources that extend the Neiman Institute's current capabilities.
---
Grant Awards
The Neiman Institute will fund two grant awards in this cycle and all applications will be considered for both awards, as applicable.
Harvey L. Neiman Grant

Richard Duszak Grant

This award is named in honor of Harvey L. Neiman, MD, a highly honored radiologist broadly considered a luminary in the field.  Dr. Neiman was an accomplished outstanding physician, and a respected leader and medical scholar who dedicated his professional career to improving patient care. He was one of the leading minds in medicine regarding radiology, medical imaging policy and economics.  The Harvey L. Neiman Health Policy Institute was created under his leadership as CEO of the American College of Radiology.

The Neiman Grant funds research on the value of advancements in the field of radiology for improving the efficiency or effectiveness of patient care. Priority areas of advancement include:

• Research that explores (identifies, explains and tests) opportunities and challenges presented by emerging technologies with the potential to impact radiology practice. An area of particular interest is artificial intelligence (AI). Additional applicable areas of research include digital health technologies, telehealth, emerging imaging technology, etc. and should include objectives that are pertinent to health policy and/or economics.

• Research focused on practice advancements that tests innovative ideas or established approaches from other fields with respect to impact on health equity, efficiency or cost, and/or patient outcomes. Using quantitative research methods, proposals under this topic should seek to bring new, actionable ideas to radiologists for how to better serve patients in a manner that will improve value and advance clinical practice.

This grant was named in honor of Richard Duszak, MD whose leadership as the CEO, CMO, and Director of Neiman Health Policy Institute IMPACT Center at Emory University during the Institute's first decade has been instrumental to its success. Dr. Duszak' s prolific research in health policy, his development of broadly accessible online data tools, and his mentorship of other researchers have shaped the field and impacted health policy objective research.

The Duszak Grant funds research on emerging delivery and payment models as avenues for radiology to provide high value services for patients, with reimbursement that will support patient access and continued advancement of radiology practice within these models.

Research that models the impact of proposed/future policy for radiology or radiology patients, that demonstrates the value of radiology in the context of recent or emerging models, such as value-based payments, or that evaluates innovative approaches (within a local delivery system) is of interest. 
---
Application Timeline
Application period for 2024 is now open. Applications are due by January 29, 2024 at 8 PM ET.
For any questions, please email grants@neimanhpi.org
☑ See the full RFA for more information.